When it comes to growing your career, there's long been a thriving debate over the merits of building generalist vs specialist skill sets. Spoiler: there is no right answer.
In reality, whether to build a generalist or specialist skill set (and therefore career path) relates much more to two things:
What do you enjoy?
What do organizations where you want to work need?
We could go in 100 different directions with this conversation, so I want to zoom in on one particular aspect. If you know what kind of company you want to work for, then you can design a career development strategy that matches what those companies need. I've drawn a basic illustration to highlight the concept: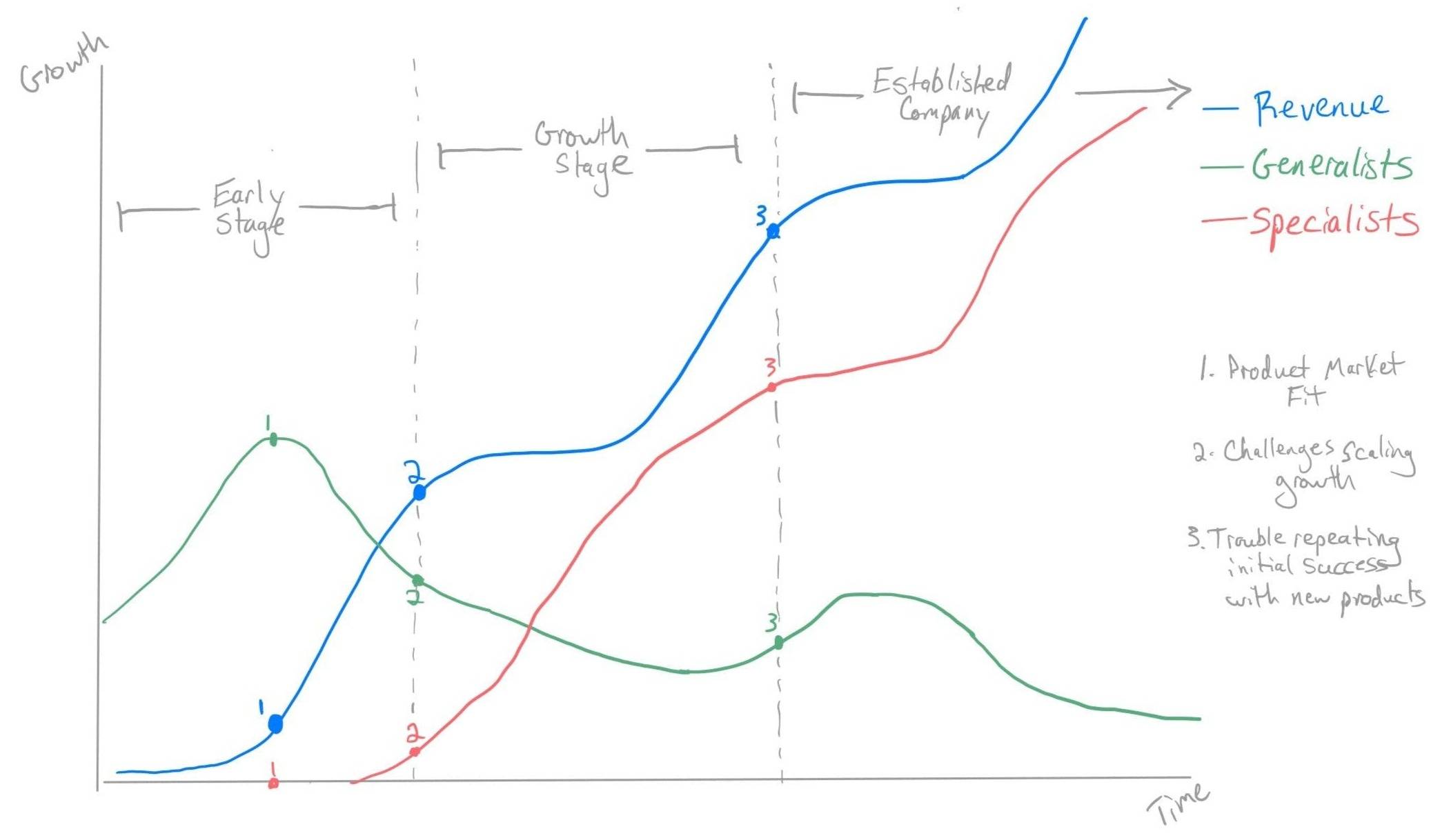 Forgive my lack of design skills as we walk through the logic of the illustration. It will help you have clarity on whether to focus on generalist or specialist skills.
Companies grow in what's referred to as "S-curves". An s-curve refers to a period of flat or no growth. Then there is an upswing of rapid growth (usually fueled by some event). Finally, there is another period of flat or no growth as new challenges pop up. When a company is founded, the first s-curve starts.
Early Stage – A Generalist's Heyday
In the early days of a company you haven't yet reached product-market fit. This means you're typically doing one of two things:
building a product and searching for someone who needs it or
starting with a target market and building product(s) to solve their problems.
At this stage, customer research, product development, and direct sales are highly relevant. There are basic needs for marketing and customer support, but not enough to justify dedicated hires.
Before hitting product-market fit, everyone on the team has to be scrappy and know how to do 10 different things. Your CEO might be your primary developer and salesperson. The first non-founder hire might handle all customer support, build the marketing site, start a content strategy, and do QA. There isn't room for specialists when you're just trying to survive.
Anyone who joins a company in the early stage has to embrace this reality. It's a feature not a bug. The work can be exhilarating if you know what you're signing up for. The emotional highs and lows attached to company wins and losses feel personal.
Generalists thrive in early stage companies.
Then an inflection point happens — product-market fit. This is the event that fuels the initial period of rapid growth to form the middle of the first growth curve. You often hear this described as "trying to keep up with growth because it's coming so fast" or "not knowing where the growth is coming from." This is one of the most exciting times to be in a company. It's coordinated chaos with everyone running as fast as they can to keep up.
At this stage, generalists are still very valuable. You need people to work hard and do whatever job is in front of them. It often requires extra hours and a dedication to getting things done regardless of what it takes.
Usually the growth rate starts to slow a bit as product quality suffers under so much pressure. Customer support becomes lackluster because there's too much volume to do anything other than triage.
Collectively we'll call these early challenges the "challenges of initial scale." They usually come in two flavors:
Repeating growth tactics that work at much higher volume.
Supporting the customers you've won through the first period of growth.
Unsurprisingly, this stage is quite tiring. As the company tops the initial growth curve, some of the generalists who joined the company early begin to leave. Maybe they're tired. Maybe the coordinated chaos starts to create conflict on the team. Some get off because it's not as "fun" or "interesting" anymore. Some leave because they're not able to make the transition to a more specialized role. Overall, the total number of generalists starts to decline.
Growth Stage – The Golden Age of Specialists
When these challenges hit, a company has to start implementing repeatable systems in order to reach the next stage. These systems often require specialists — experienced operators — who have been there, done that before.
For the company to survive, leadership will turn their focus to building these repeatable systems. A few roles will start to appear that require more specialized skills. Perhaps it starts by hiring a specialist in a certain kind of web or app development. Then a data analyst. Then an email marketing specialist.
As the specialists implement scalable systems, great companies hit their stride again and begin another period of rapid growth. This is the stage ConvertKit is at today.
This is what we call a "growth stage" company or "scale up" as Reid Hoffman calls it in his book, Blitzscaling. As a company regains traction, they'll typically ramp up hiring — they're all in on filling out the org chart with specialists at this stage. The company needs to turn everything into a repeatable process and then scale it as fast as possible.
This is the golden age of specialists at a company.
It's the perfect combination of creating and operating. You build the process from scratch and then learn whether that process works. You can then iterate and fine tune them as the company matures.
At the same time, growth scale companies also need great leaders and managers who have a T-shaped body of expertise. T-shaped means broad knowledge that allows effective leadership in many areas with depth (specialization) in one or two areas. This shows up in roles like "director of marketing" or "VP of engineering."
Growth-stage companies hit another flat portion of their S-curve as they reach stagnating growth with an existing product or products. We can call this rough patch the "challenges of incumbency."
The market is highly competitive or even saturated. New entrants are popping up to try to steal part of your market. Existing competitors are competing on price and feature set. Some customers start to leave for competitors for frustratingly small reasons.
As a company nears maturity, it needs competent managers to oversee and fine tune existing process. Some of the early specialists start to leave — they're innovators and implementers, not operators of existing systems. New specialists take their place — those good at maintaining existing processes and keeping them running over long periods of time.
Maturity – Opportunity for Everyone
At this point, the company has to continue to scale revenue from existing product lines. They will develop additional sources of revenue through new products or acquisitions. This leads to startups within established companies, which require a short-term influx of generalists to test initial product concepts.
This is another opportunity for generalists to rejoin companies at a much less risky stage. You're often able to make market-rate salaries while starting up new lines of business. Compared to joining an early stage company, this can feel quite safe and comforting.
As these new products enter their growth stages, the company as a whole hits a new s-curve of growth. This becomes the long-term pattern an established company goes through.
The company continues to scale with hiring large numbers of specialists to maintain and grow the existing lines of business.
They'll also add and maintain an entire layer of "middle management," which is another opportunity for generalists to enter to manage the existing business.
Generalists and specialists can both find a home in mature companies.
The major risk in mature companies is the inevitable periodic layoff to reduce the overall labor force and improve efficiency. Period of growth and expansion follow before the process repeats itself (until and unless a company enters the death spiral).
The Path Not on the Graph – The Creator
And then of course there's the path not on the graph at all – that of the indie entrepreneur or creator.
Creators have the ultimate T-shaped skill set (similar to a leader at a company).
Creators have to be really good at one thing (cooking food or making music, for example). But they still have to do everything else since it's just them running the whole business.
As a creator or indie entrepreneur, you're the designer, developer, writer, marketer, and customer service rep all at the same time. It can be overwhelming to someone who just wants to make art, but the ability to tackle the generalists tasks (or outsource them to someone else) is what differentiates the creators who are able to earn a living from their art versus those who aren't. If a creator can grow their business enough, many go on to build teams so they can revert to specializing in making art (cooking food, making music).
Three Must Reads on Generalists vs Specialists
Range: Why Generalists Triumph in a Specialized World by David Epstein – The author makes a compelling argument for being a curator and synthesizer of information. In a world that requires an individual to spend a lifetime gaining expertise to make breakthroughs (a consequence of the widening body of established human knowledge), we need generalists to parlay ideas from one field to another. They're the ones who are able to make specialized findings actually useful in everyday life. A compelling argument for the value of generalists. This one is good digestible as an audiobook (I'm not sure it's life-changing enough to add to the hardcover bookshelf.)
The Generalized Specialist by Shane Parrish – Shane rejects the premise of the question, "Generalist or specialist?" and instead introduces a different concept altogether: the generalized specialist. He goes on to highlight some of history's great minds who have functioned in this way. If you don't already know Shane's work, you should. He's one of the smartest thinkers freely sharing his frame of reference on the web.
S-Curves Are the Most Important Concept in Entrepreneurship by Andreas Goeldi – A basic overview of the concept of S-Curves.
There's no right answer to generalist vs specialist, so focus on what will help you grow your career
When you know how generalists and specialists fit into the stage of a company's growth, you can better plan for whether you want to develop a generalist or a specialist skill set. What stage is the company you're at right now? If you want to stay there, do you need to focus on going deep with a specialist skill set or go broader by picking up more skills?
If you're stuck, you might be a generalist in a company that needs specialists right now or vice versa. If you think it's time to look outside your current role for new opportunities, what kind of talent will the companies you're interested in be looking for?
Let's say you know of an early stage company that's just starting to take off. Well, if you plan it right, you can intersect their growth stage with your skill development to have the best chance to work there. If they've just hit product-market fit, you know that in 12-36 months, they'll be on a hiring spree of specialists to build the systems they need to grow. If you start now, you can build a specialized body of work that proves you're the best person to solve the kinds of problems they'll soon have.
Lastly, if you want to go to work for an established company, like Nike, you're likely to need to do one of two things: 1) start a company as a generalist with the goal of getting acquired or 2) build a highly specialized skill set based on what they need (for example: materials scientists with specialized knowledge in sustainable fabrics would be highly applicable today and for the next 20+ years).
Generalists have the most flexibility of choice – any early stage company needs generalists. If you have the right people development skills, companies will also always need talented and proven leaders.
Specialists limit the number of choices they have but increase their likelihood of being exactly the right person for the right company at the right time.
There isn't a right answer to generalist vs specialist.
There is: what are you naturally inclined towards?
And there is: what will the organizations you want to work for need?
Those two things tell you whether to focus on broadening or deepening your skill set.